This sentiment has peaked earlier this month when a humanitarian delegation comprised of Israeli medical professionals landed in Azerbaijan and treated over 150 Azeri soldiers wounded in the Nagorno-Karabakh conflict.
In a number of cases, the Israeli surgeons were able to restore sight to the wounded soldiers. Among the most notable examples are several Azeri soldiers in their early 20s, particularly Arif Gadzhiev, who lost his sight when he was hurt by an exploding shell that left him able to distinguish only between light and darkness. The surgery, which lasted several hours, included the removal of traumatic cataracts, insertion of an intraocular lens and a corneal transplant. After several days in recovery, Arif regained his ability to read.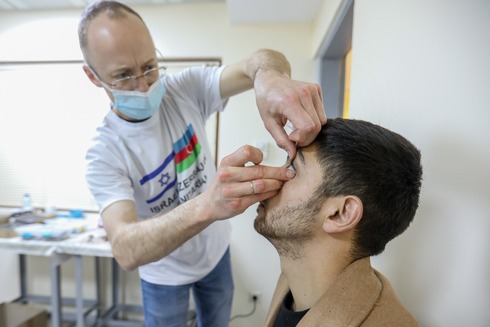 An Israeli doctor treats an Azeri soldier wounded in the Nagorno-Karabakh conflict
The Israeli operation was broadly covered in Azeri media in Azerbaijan and Iran. Günaz TV brought on air about 40 Azeris from Tehran who showered Israel with warm words, calling the Jewish state "a friend" or a "sister nation" while labeling the Islamic Republic "an enemy."
Hikmat Hajiyev, an assistant to the Azerbaijani president, has shared a message of gratitude on Twitter as he thanked the Israeli delegation for rendering ophthalmological assistance to wounded servicemen.
"Such a great story. We are thankful to the Israeli medical team for providing health support in ophthalmology for our wounded soldiers/officers. It is also a sign of friendship between our countries," Hajiyev wrote in his Twitter account.
'Are we close to a coup in Iran?'
"It's a very complicated situation. Iran has complex problems. The lack of opposition keeps the mullahs in power, this is the main problem. The main opposition to the Iranians must unite and understand that everybody has rights. Unfortunately, the Persian opposition thinks that if Azeris and Kurds get rights, the country will split and therefore they are not willing to unite with ethnic minorities. Without unification, it will be very difficult."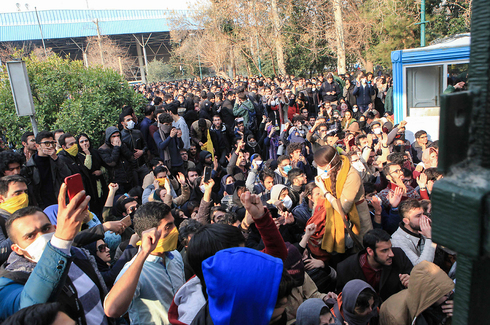 Anti-government protesters in Tehran
'Were the economic sanctions imposed on Iran by the U.S. successful?'
"I think the sanctions should not be lifted anytime soon and even when they are lifted, they should be partially lifted, because Iran is on its knees. Iran must surrender, stop sponsoring terrorism, give up its dangerous nuclear and missile programs. Iran has to give up a lot of things and if [U.S. President Joe] Biden presses them, they will do it.
"Internally, they are in a very difficult situation. But they will never abandon their ambition for nuclear weapons, no matter what agreement they reach with them, Tehran will cheat. In a sense, I think there will be no real change as long as the mullahs are in power. Sanctions should continue because this is the best solution so far but the ambition should be to establish a new government."
'What about an Israeli or American military option?'
"I'm neither for nor against Israeli or other military attacks, I will leave it to the countries. One thing I know for sure, that if there is an attack against the Iranian government, there is no reason for the people to unite behind the government. This is another misconception of the West."